We are exploring ways to use 3D Laser scan technology in architectural research and to better understand and document cultural resources. Using Fay Jones' Edmondson House as a case study, Urban Studio | S+J Design Lab team is utilizing a 3D Laser Scanner to capture point cloud data that will be used to create BIM and VR models that can be used for analysis of existing conditions. In the case of the Edmondson House, we will be utilizing the 3D scans to analyze the existing structure to prepare plans for restoration and reconstruction.
In May 2023, Sherry and Jerry, along with Professor Danielle Willkens from the Georgia Tech College of Design, did an initial series of test scans at the Edmondson House. This initial trip was about 12 hours of scanning. The terrain around the house is steep, so we had to utilize a 14' all terrain surveying tripod to scan some sides of the house. Additionally, the tree coverage is thick, making scanning challenging. It was also necessary for us to place ball targets to help with joining scans.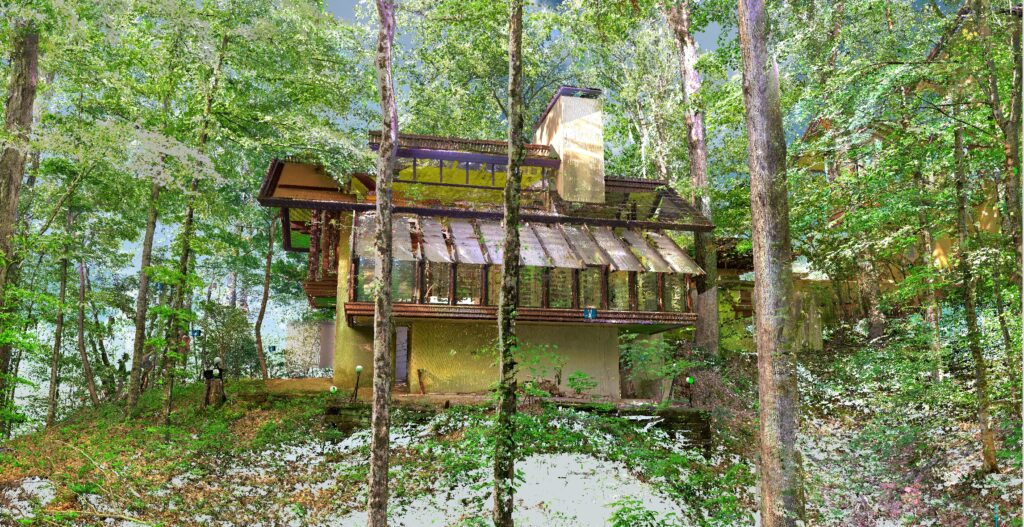 After analyzing the preliminary scan data, we will make adjustments for a trip in the fall of 2023 when the tree foliage is not obstructing the views as much. We will also use a scanner arm attached to trees for additional scans. To scan certain areas of the roof, a drone may be utilized to obtain point cloud data that will be stitched to the laser scanner point cloud.